The Shire of Owl's Nest Proudly Presents

Newcomers
Collegium VII

Saturday, March 31, 2007

Pickett's Mill Battlefield
4432 Mt. Tabor Church Rd.
Dallas, GA 30157
Greetings fair gentles!
The Shire of Owl's Nest would like to invite you to a once-a-year event specifically tailored for newer members and for those wishing to learn the basics of the SCA.
This year's event is going to have a Roman theme! Lady Elisenda has a sumptuous faire planned for our lunch feast to fit the bill.
We hope that you can join us!
Autocrat
Essyllt of Owl's Nest
mka Esther Jenkins
3035 Sumit Wood Dr. NW
Kennesaw, GA 30152
770-422-0650
sca_esther@bellsouth.net

Feastcrat
Elisenda de Luna
mka Talina Davis
For food allergies, please contact the feastcrat prior to the event.
talina101@hotmail.com

Pricing
Event fee = $5
Lunch feast = $3
Children under 12 = free
Non-member surcharge = $3
Make checks payable to: SCA, Inc./Shire of Owl's Nest
A $3 per vehicle parking fee needs to be paid at the park
Lunch Feast Menu
Gustation:
Bread (wheat bread & cheese bread)
Boiled Eggs
Moretum (cheese, garlic, & herb spread)
Rose Honey
Epityrum (olive paste)
(Butter will be available for those not wishing to try the spreads)

Mensa Prima:
Fried Carrots
Leeks with Vinaigrette
Peas in Herb Sauce
Chicken with Garlic
Beef Casserole

Mensa Secunde:
Fruit (apples, pears, grapes, apricots, figs, dates)
Nuts (almonds, walnuts, pistachios)
Rose Honey
Savilla (cheesecake)
Pyramides (honey wheat cakes)

Please contact the Feastcrat if you have any questions regarding ingredients.
---
Site Opens at 9am
Track 1 (inside)
Track 2 (outside)
Track 3 (outside)
Track 4 (inside)
Fighting (fighting field)

10:00am - 11:00am

Basic T-tunic
Lady Angharad the Unbound
Persona Game
Mistress Christianna MacGrain
Roman Fighting/Armor
Sir Thomas Blackmore
15th Century Italian Women's Dress Practicum (all day)

Review of period sources (pictures) and try on some clothes, chose a style
Peryn


Fighting for Non-fighters
Lord Lucius

11:15am - 12:15pm

Basic T-tunic
-con't-
Persona Game
-con't-
History of Meridies
Duke Sir John of Ean Airgead, known as MadCelt
Patterning on the body
Peryn and Madelena



12:30pm - 2:00pm

Lunch

2:15pm - 3:15pm

Basic Latin
Lady Ailith

Basic Card Weaving
Lady Cera fillia Drusti

Basic Bead Making Demo
Mistress Rhiannon Cathamoir
The Byzantine Empire: Romans of the Middle Ages, 330AD - 1453AD
Edric the Bastard
Patterning on the body continued and discussion of construction techniques
Peryn and Madelena



3:30pm - 4:30pm

Intro to SCA Dance
Lady Andreva Rigaldi
Basic Bead Making Practice
Mistress Rhiannon Cathamoir
Roman Daily Life and Games
Guillaume des Pyrénées
Discussion of construction techniques continued
Peryn and Madelena



4:30pm - 5:30pm

Dessert Revel and Dancing





Schedule subject to change. Check the on-site flyer.
Because the Shire's birthday is April 1, we will be celebrating with a Dessert Revel during the dancing. Please feel free to bring a dessert to share.
Fighting Schedule

Rapier Combat
Heavy Combat

10:00am - 10:30am

Armor Inspection and Authorizations
Armor Inspection and Authorizations

10am-11am CLASS: Fighting for Non-fighters
Lord Lucius

10:30am - 12:30pm

Novice Tournament
Fighters authorized for less than 2 years who have never won a tournament

Open Tournament
Open to all rapier fighters

Novice Tournament
Authorized fighters who have been fighting less than 2 years

Unbelted Tournament
Authorized fighters not yet members of the Order of Chivalry

12:30pm - 2:00pm

Lunch

2:15pm - end

Pick-ups
Pick-ups
All tournament entry rules may be subject to change, pending attendance.
Prizes to be awarded during lunch.
---
Directions:
From Atlanta take I-75 north to Hwy 92 (exit 277).
Turn left onto Hwy 92 from the interstate.
The site is on Hwy 92, so follow the signs for Hwy 92 South until you get there.
Turn by turn:
After approximately 0.2 miles, turn RIGHT onto Lake Acworth Dr (Hwy 92).
Go approximately 3.6 miles, then turn RIGHT onto US41N (92S joins 41N for a short bit).
Drive about 1.4 miles, and turn LEFT onto Dallas Acworth Hwy (GA 92).
After another 3.9 miles, turn LEFT on Hiram Acworth Hwy (still 92).
About 1.7 miles down Hiram Acworth Hwy, Pickett's Mill will be on the RIGHT.
SCA signs will be posted from the first right turn.
**Mapquest users please Note**
If you enter the site address in Mapquest (or any other mapping software), it will direct you to the park main office.
The event is actually one street over at their group shelter.
If you end up at the main office, they will be able to tell you how to get to the group shelter.
SCA signs will be posted, so look for the owls.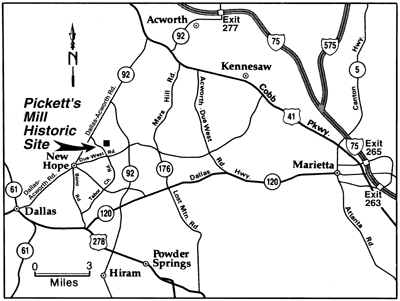 <
For more information about Pickett's Mill click on the map to
take you to the Georgia State Park website.
Alternate Directions:
From I-75, exit at N. Marietta Pkwy (Hwy 120 - Exit 259)
Turn towards the WEST (LEFT for those coming from the south).
Continue until you reach Whitlock Ave. (Hwy 120).
There is a Walgreens on the corner.
Turn RIGHT onto Whitlock Ave. towards the North & West.
Go 3.3 miles, passing thru 6 traffic lights, passing Marietta High School & the Kennesaw Civil War Memorial Battlefield Park.
Just past the Battlefield the road will fork at the 7th traffic light, you need to stay to the right thru the fork (continuing on Hwy 120).
The road has just changed names from Whitlock Ave /Hwy 120 to Dallas Highway /Hwy 120. Just keep going straight.

Continue going straight for approx. 7 miles.
Go through 13 traffic lights. (Nearly there when you pass WalMart.)
Turn RIGHT onto Hiram-Acworth Hwy / Hwy 92 (there are 2 Shell gas-stations catty-corner here).
Go 4.5 miles, passing Due West Road (where there's a traffic sign with yellow flashing lights).
Turn LEFT into the 2nd road on your left side.
There is a large brown sign "Pickett's Mill Battlefield - Family Group Shelter"; and you are here!

NOTE: No signs will be posted along this route.
---
**Attention**
If you are bringing children to the event and you are not the parent/legal guardian
please be advised that you will need 2 forms.
Note – both forms MUST be signed by the parent and one signed form must be notarized.
Forms needed:
Designated Adult in Charge of Minor Not Accompanied by a Parent/Legal Guardian
Medical Authorization for Minors
These are very important forms and canNOT be filled out on site!
You WILL BE, regrettably, turned away if these forms are not presented and filled out correctly.

Standard Disclaimer: This is not a recognized Web Page for the Kingdom of Meridies nor the Society for Creative Anachronism, Inc. The maintainer of this site is Essyllt of Owl's Nest. It is not a corporate publication of the Society for Creative Anachronism, Inc., and does not delineate SCA policies.